Star Trek Specials
IDW
one-shots
One-shot and event-related Star Trek comics from IDW.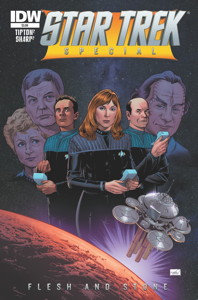 Jul 2014
Star Trek Special: Flesh and Stone
A low-warp escape pod approaches Space Station Diamandis 1. Typically used to ferry sick or wounded from remote locations, the pod is coming to the right place, host of a large Starfleet medical conference. Traveling to the conference via shuttle, Dr. Beverly Crusher, Dr. Julian Bashir, and Dr. Katherine Pulaski, monitor a distress signal from Diamandis 1. The Doctor, formerly Voyager's Chief Medical Officer, informs them of an unknown contagion carried by four humans in an escape pod, that has incapacitated all station personnel. The disease paralyzes, then begins transforming the victim into a stone-like substance. Four more escape pods are heading towards populated worlds and the Doctor also discovers that records related to the disease have been deleted from the station's medical database. The oldest record deleted was recorded by the Constitution-class Enterprise. Since Admiral McCoy is still alive and living on a nearby agricultural facility, the doctors divert their shuttle hoping to learn more about the disease. McCoy has retired to what amounts to a frontier town, but is as sharp and irascible as ever. He recalls the incident deleted from the medical database. The Enterprise answered a colony distress call from Doctor Phlox, asking for help treating victims of the same disease. Phlox and McCoy learned that the stone-like substance resembles the Tholian crystalline carapace and were able to create the anti-viral necessary for treatment. Armed with this information, the Doctor is able to synthesize the antivirus, begin treating victims, and warn Starfleet. Exceeding his programming as usual, the Doctor also does some detective work to learn why the contagion was directed at Diamandis 1 and averts a crisis. Even Dr. Pulaski is impressed.

This one-shot Star Trek medical adventure was created in partnership with the Qualcomm Tricorder XPRIZE, a $10 million competition to bring healthcare to the palm of your hand. Readers of all ages are invited to join the Tricorder Federation, where futurists, innovators and fans can come together and celebrate the efforts of the teams around the world who are competing to make the medical Tricorder a reality, so we can all live long and prosper.

Writers: Scott Tipton, David Tipton
Artists: Sharp Brothers, Andrew Elder
Cover artists: Sharp Brothers, John Rauch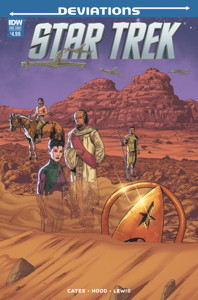 Mar 2017
Star Trek Deviations
Solicitation: In a world where the Romulans discovered Earth before the Vulcans, Earth is now a brutal penal colony. Resistance fighter William Riker has uncovered a vast conspiracy, and together with his band of prisoner outlaws (you just might recognize a few!), must fight to rescue a mysterious prisoner in the darkest level of the Romulan dungeons. The only man on Earth that still holds the key to humanity's return to the stars!

Part of IDW's Spring 2017 Deviations five-week event.

Writer: Donny Cates
Artist: Josh Hood
Cover artist: Josh Hood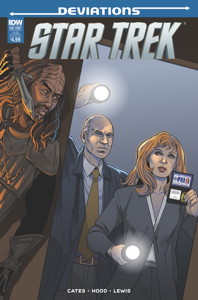 Mar 2017
Star Trek Deviations


Mash-up subscription variant.

Writer: Donny Cates
Artist: Josh Hood
Cover artist: Rachael Stott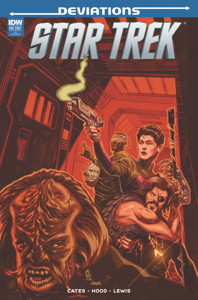 Mar 2017
Star Trek Deviations


Retailer incentive variant cover.

Writer: Donny Cates
Artist: Josh Hood
Cover artist: David Malan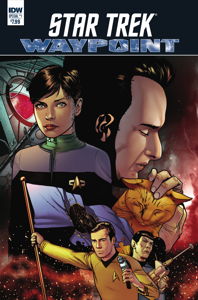 #1 Nov 2018
Star Trek: Waypoint Special
The anthology series spanning 50 years of Star Trek returns in this oversized annual! These weird and wonderful stories--set during the Original Series, The Next Generation, Deep Space Nine, and more--expand on rarely explored corners of the universe or provide closure for long-forgotten plot threads. But they all remind us of why we love Trek. This volume features your favorite characters, including Data, Q, and Ezri Dax, handled by the top creators of today and the future!



Writers: Dave Baker, Nicole Goux, Brandon Easton, Jackson Lanzig, Collin Kelly, Matthew Dow Smith
Artists: Nicole Goux, Josh Hood, Sonny Liew, Matthew Dow Smith
Cover artist: Josh Hood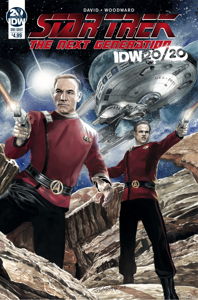 #1 Jan 2019
Star Trek: IDW 20/20
Solicitation: Twenty years before he took command of the U.S.S. Enterprise-D, Jean-Luc Picard sat in the captain's chair of the U.S.S. Stargazer. Picard served with distinction aboard the Stargazer for many years on his way to becoming the most respected captain in Starfleet. But in this early mission, Picard shows us a vulnerable side as well as glimpses of the brilliant tactician he would become.

This issue is part of IDW 20/20, a weekly event celebrating IDW Publishing's 20th Anniversary. Each 20/20 issue tells a story set 20 years in the past or 20 years in the future.

Writer: Peter David
Artist: J.K. Woodward
Cover artist: J.K. Woodward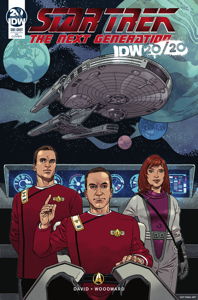 #1 Jan 2019
Star Trek: IDW 20/20


Retailer incentive variant. The cover art features Picard with hair! TrekCore points out that Beverly Howard's uniform was created for her Playmates action figure.

Writer: Peter David
Artist: J.K. Woodward
Cover artist: Gabriel Rodriguez, Nelson Daniel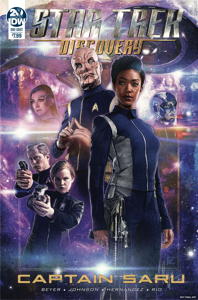 #1 Feb 2019
Star Trek: Discovery: Captain Saru
Solicitation: An all-new Discovery adventure that ties directly into season 1 of the hit CBS All Access show! Soon after the events on Q'onoS, the Discovery receives a distress call from someone from Tilly's past. It's up to Commander Saru to lead the crew against this sinister alien threat in his first mission as acting captain!

One-shot featuring Saru with cover art by Paul Shipper.

Writers: Kirsten Beyer, Mike Johnson
Artist: Angel Hernandez
Cover artist: Paul Shipper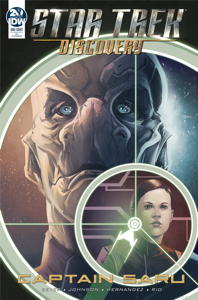 #1 Feb 2019
Star Trek: Discovery: Captain Saru


Retailer incentive variant.

Writers: Kirsten Beyer, Mike Johnson
Artist: Angel Hernandez
Cover artist: Angel Hernandez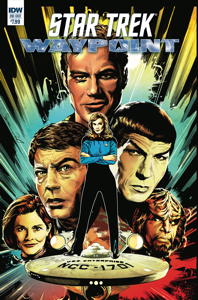 #2 Mar 2019
Star Trek: Waypoint Special 2019
Solicitation: The anthology series celebrating 50+ years of Star Trek continues in this new oversized special. Featuring four all-new tales written and drawn by some of today's top creators, this new installment of the hit Waypoint Special will revisit fan-favorite characters all across the Star Trek universe.

One-shot with cover art by Stephen Mooney.

Writers: Matt Sheean, Malachi Ward, Thom Zahler, Stephen Mooney, Corinna Bechko
Artists: Malachi Ward, Stephen Mooney, Andy Price, Daniel Irizarri
Cover artist: Stephen Mooney

Star Trek Comics Checklist
by
Mark Martinez
is licensed under a
Creative Commons Attribution-NonCommercial-ShareAlike 3.0 Unported License
.
This website is not endorsed, sponsored or affiliated with CBS Studios Inc. or the "Star Trek" franchise. The STAR TREK trademarks and logos are owned by CBS Studios Inc.