Star Trek
Los Angeles Times Syndicate
newspaper comic strip
Detailed information on Star Trek comic strips was researched by Rich Handley. Most of this information was published in Star Trek Communicator #121 and is duplicated here with his generous permission. The Library of American Comics, a division of IDW Publishing, has reprinted the strips in two volumes, see Star Trek: The Newspaper Comics. For a deep dive into the esoterica of Sunday newspaper comics and the Star Trek strip, see The Case of the Missing Sunday Panels.
Star Trek, a newspaper comic strip syndicated by the Los Angeles Times Syndicate, was published from December 2, 1979 until December 3, 1983. Six daily b&w strips were provided each week. The four-color Sunday strip was made available in half-page standard format, which could also be published in third-page standard, quarter-page standard, full-page-tabloid and half-page tab format. The Sunday strip recapped the daily story line. The total number of newspapers that carried the syndicated strip is unknown, but see below for a work in progress list of the newspapers.
Writer/artist Thomas Warkentin was aided by Ron Harris, Mark Rice, Dan Spiegle, Duke Riley, Kurt Warkentin, and someone named Yang. Ron Harris was aided by Thomas Warkentin, Paul Chadwick, Terry Robinson, Alan Munro, and Laurie Newell. Warkentin ghost-illustrated the final week of Harris' run. Ernie Colón was aided by Alfredo Alcala and Serc Soc. The latter may have been a pen-name. Brief summaries of the twenty story arcs follow. Rosemarie Warkentin provided titles for her husband's untitled strips. The remaining untitled strips were given titles for the recently published reprints.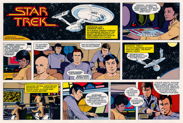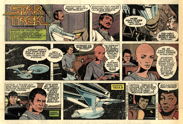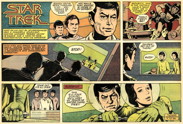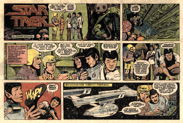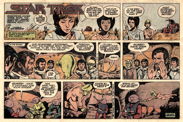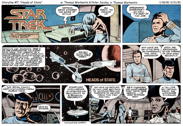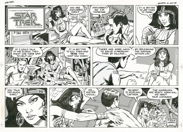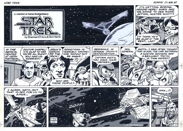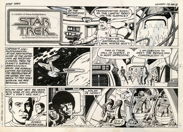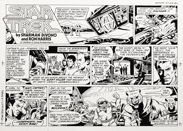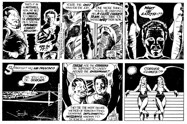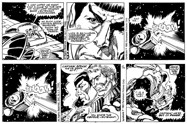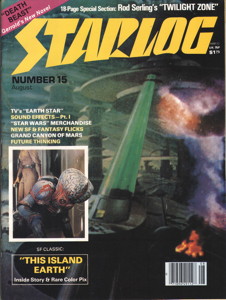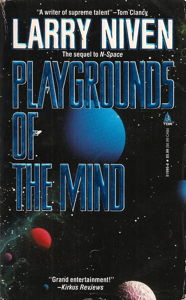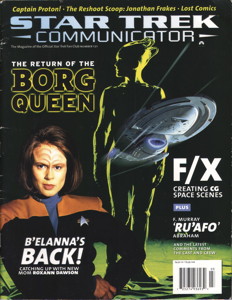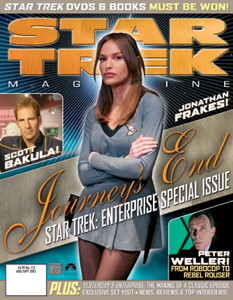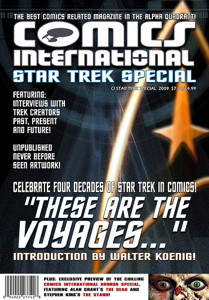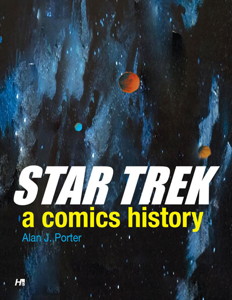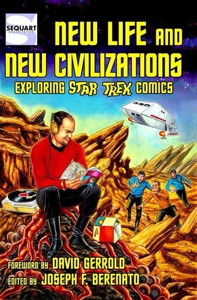 References
Berenato, Joseph F. New Life and New Civilizations: Exploring Star Trek Comics. Edwardsville, IL: Sequart Organization, 2014. ISBN 978-1-9405-8905-3 (Faith of the Art: Stripping Down the Star Trek Daily Newspaper Serials by Rich Handley, pp 87-102)
Handley, Rich. Forgotten Frontiers: Revisiting the Star Trek comic strips, Star Trek Communicator 121, Feb/Mar 1999, pp 6, 68-72, 80.
Handley, Rich. The Four Color Frontier, Star Trek Magazine #122, Aug/Sep 2005, pp 66-71.
Handley, Rich. Forgotten Frontiers, Comics International Star Trek Special 2009, pp 20-23.
Handley, Rich. Hasslein Blog: Boldly Going Where No One Has Gone in About Three Decades
http://hassleinbooks.blogspot.com/2013/07/boldly-going-where-no-one-has-gone-in.html
Holtz, Allan. Stripper's Guide: Obscurity of the Day: Star Trek
http://strippersguide.blogspot.com/2011/05/obscurity-of-day-star-trek.html
Memory Alpha: Star Trek Comic Strips (US)
http://memory-alpha.org/en/wiki/Star_Trek_Comic_Strip_(US)
Niven, Larry. Playgrounds of the Mind. New York, NY: Tom Doherty Associates, Inc., 1991. ISBN 0812516958 (mass market paperback edition, 1992, The Lost Ideas, pp 495-511)
Porter, Alan J. Star Trek: A Comics History. Neshannock, PA: Hermes Press, 2009. ISBN 1-932563-35-0
Roby, Steven J. Complete Starfleet Library - Star Trek: The Lost Books: The Wristwatch Plantation
http://www.well.com/~sjroby/lostbooks.html#81wp

Star Trek Comics Checklist
by
Mark Martinez
is licensed under a
Creative Commons Attribution-NonCommercial-ShareAlike 3.0 Unported License
.
This website is not endorsed, sponsored or affiliated with CBS Studios Inc. or the "Star Trek" franchise. The STAR TREK trademarks and logos are owned by CBS Studios Inc.